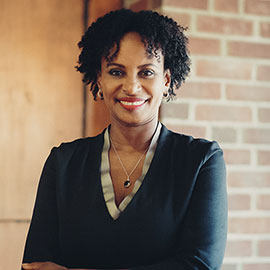 Dr. Rhonda N. McEwen is the president and vice-chancellor of Victoria University in the University of Toronto. She is the senior executive officer responsible for its academic and administrative operation and reports to its governing body, the Board of Regents.
Dr. McEwen began her tenure as Victoria University's 14th president in its 186-year history on July 1, 2022. Prior to this role, she served as University of Toronto Mississauga (UTM) vice-principal, academic and dean with oversight of all academic programs, planning and policy, faculty, teaching and learning, and academic experience. She has also served as director of the Institute of Communication, Culture, Information & Technology (ICCIT) at UTM, where she transformed the program into a stand-alone unit with a new professional experience certificate in digital media, communication and technology. 
Dr. McEwen holds an MBA in information technology from City University in London, England, an MSc in Telecommunications from the University of Colorado, and a PhD in Information from the University of Toronto. Dr. McEwen was previously U of T's first special advisor on Anti-Racism and Equity.  As a researcher, instructor, and consultant of new technologies around information practices, Dr. McEwen focuses particularly on mobile and tablet communication, virtual reality, communicating with robots, and social networks.
Read the full announcement about Dr. McEwen's appointment here.
Read the Toronto Star feature on Dr. McEwen.
Contact and Location

Dr. Rhonda N. McEwen, President and Vice-Chancellor
Northrop Frye Hall, Rm 120
73 Queen's Park Crescent
Toronto ON M5S 1K7
Tel: 416-585-4511
E-mail: The Office of the President
Victoria University Senior Administrative Management Team

President and Vice-Chancellor
Rhonda McEwen, B.Sc. (University of West Indies), MBA (University of London), MSc (University of Colorado Boulder), PhD (Toronto)

Principal of Victoria College
Angela Esterhammer, BA (Toronto), PhD (Princeton)

Principal of Emmanuel College
The Rev. Dr. HyeRan Kim-Cragg, DTh (Emmanuel College)

Dean of Students
Kelley Castle, MA

Registrar
Yvette Ali, MSc (Toronto)

Chief Librarian
Lisa J. Sherlock, MA, MLS (Toronto)

Executive Director, Alumni Affairs and Advancement
Louise Yearwood, MPNL (Carleton)

Bursar and CAO
Ken Chan, ICD.D, BA (Simon Fraser), MBA (City University of Seattle), MFAcc (Toronto), EMMR (ESCP Business School)
Staff in the Office of the President

A staff contact list can be found here.

Lindy Chan, Director of the Office of the President

Ann Salmon, Executive Assistant to the President

Sally Szuster, Director, Communications

Joanne Evans, Director, Human Resources

Lesa Williams-George, Director of Equity, Inclusion & Transformative Practices
Past Presidents
Victoria College 1841–1884

President

Matthew Richey 1849-1850

Egerton Ryerson 1850-1854

Samuel S. Nelles 1854-1884
Victoria University 1884–Present

President and Chancellor

Samuel S. Nelles 1884-1887

Nathanael Burwash 1887-1912

Richard Pinch Bowles 1913-1930

Edward Wilson Wallace 1930-1941

Walter T. Brown 1941-1944


President and Vice Chancellor

Walter T. Brown 1944-1949

Harold Bennett 1949-1950

Arthur Bruce Barbour Moore 1950-1970

John Edwin Hodgetts 1970-1972

Goldwin S. French 1973-1987

Eva Milada Kushner 1987-1994

Roseann Runte 1994-2001

Paul W. Gooch 2001-2015

William Robins 2015-2022

Rhonda McEwen 2022-