Digitizing Renaissance Italy: Vic Alumna's Award-winning Project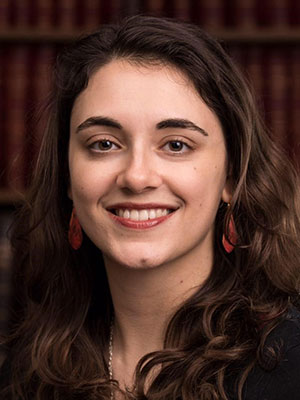 What would a resident of Florence do when the bubonic plague broke out in 1630? This is one of the questions Vic alumna Ariana Ellis presents through the digital interactive map of the Italian city at SSHRC's Storytellers Challenge in May 2022, where she was a top prize winner.
Using Geographic Information System (GIS) mapping technology, research colleagues of Ellis collected Florence's census data in 1551, 1561 and 1632 and projected them onto a hand-drawn map made in 1584 via the DECIMA project. "The interactive map allows users to track economic and social trends across the city during those times," said Ellis, who is working on DECIMA's next project involving transcribing census data for the 3D construction of Livorno, also in Tuscany.
Ellis's short video about DECIMA was one of the final winners at the Storytellers Challenge, which has been supporting the project since 2011.
One of the maps created by the DECIMA project displays plague infections recorded by the city's doctors from October 1630 to November 1631 and gives historians new ways to explore the lives of Florentine citizens during the plague in 1630. "Based on the census, you can see how the residents responded," said Ellis. "You can see how families were impacted by tracking who moved and remained afterward."
The DECIMA project, which stands for Digitally Encoded Census Information and Mapping Archive, was co-instigated by Victoria College fellow Nicholas Terpstra and Brock University professor Colin Rose in 2011.
Ellis joined DECIMA in August 2019 as a research assistant and her role has evolved into a communications manager for the project. She started working for Terpstra after taking an interest in his previous work on the public execution and rituals of Florence. But it was her knowledge of digital humanities tools that got her the role in the team. "I do a lot of immersive and evocative soundscape, filmmaking, and pedagogical game development," said Ellis.
What Ellis loves about DECIMA is that the project is expanding into the digital realms. "It is such an interactive tool that you can see a window into the lives of people at the time," said Ellis.
Victoria College helped fund a soundscape project related to DECIMA by University of Toronto PhD student Heather Smith.
Ellis received her Bachelor at Vic and Master's degrees in Medieval Studies at the University of Toronto. Working on her Capstone Research at Vic inspired Ellis to do public communication work and gave her the opportunity to refine and develop related skills. "The ability to explore my pedagogical style with detailed feedback from my peers honed my skills," said Ellis. "The group environment was both motivating and accommodating for tailored and useful feedback."
She is currently a history PhD candidate at the U of T. Her research focuses on popular culture and the civic rituals of public execution in London and Venice between 1400 and 1600.
DECIMA is taking its next step in digital mapping by projecting census data onto a 3D model of the city of Livorno, Italy. "With this opportunity, we can expand the range that DECIMA has," said Ellis. "That is the next part as well as soundscape work because we want to go towards that direction as well."
Visit the DECIMA website.