Justice Peter Jamadar to Receive Honorary Degree
PRESS RELEASE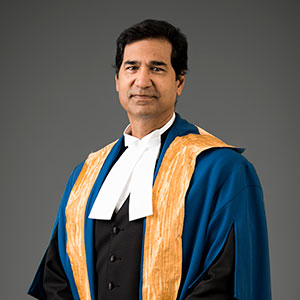 Justice Peter Jamadar, who serves on the Caribbean Court of Justice, will receive an Honorary Doctorate from Victoria University in the University of Toronto. Chancellor Nick Saul, a renowned food and social justice activist, will confer the degree on May 11, 2023, as part of the Victoria University Convocation and Emmanuel College Graduation.
Justice Jamadar graduated from Emmanuel College, one of two colleges in Victoria University in the University of Toronto, in 1997. Throughout his accomplished career, he has anchored his work in his insights from law and theology, and his desire to build equitable communities and societies.

He has focused on human rights issues such as gender-sensitive adjudication and human trafficking, as well as strengthening the justice system for historically marginalized groups such as persons with disabilities. He is currently engaged with research on Indigenous and tribal peoples of the Caribbean, and on strengthening their rights and access to justice.

"I had the pleasure to speak to Justice Jamadar for the first time when I delivered the committee's good news on his selection. I left that call even more impressed with the ways that he has translated his learning at Emmanuel College into his work to transform the criminal justice systems in the Caribbean and in Africa. Justice Jamadar is pushing longstanding biases and bringing needed changes to how systems have positioned issues affecting women and LGBT2S+ people. Justice Jamadar exemplifies the values and skills that Emmanuel College graduates contribute to a better world," says Dr. Rhonda N. McEwen, president and vice-chancellor of Victoria University.

Justice Jamadar is a Caribbean-trained lawyer and a graduate of the Faculty of Law Cave Hill, Barbados (LLB) and the Hugh Wooding Law School, Trinidad (LEC). In 1984, he was admitted to the Bar of Trinidad and Tobago. In 1997, he was appointed a Puisne Judge of the High Court, and in 2008, he was elevated to the Court of Appeal of Trinidad and Tobago. In 2019, he was sworn in as a Judge of the Caribbean Court of Justice (CCJ), the apex court for several Caribbean states and an international court of original jurisdiction for CARICOM treaty rights.

Justice Jamadar's Master of Divinity from Emmanuel College prepared him for his roles as a lay preacher and educator with the Presbyterian Church in Trinidad and Tobago. He has served as chair of the Board of Directors at St. Andrew's Theological College, the primary theological institution of the Presbyterian Church in Trinidad and Tobago, which had a long partnership with the United Church of Canada. He was also a faculty member at St. Andrew's, teaching at the undergraduate level. Justice Jamadar's theological studies and values led him to join the Foundation for Human Development in 1999, a charitable organization in Trinidad whose mission is to facilitate authentic personal growth, social development and spiritual transformation. He currently serves as a Vision Circle leader and on its faculty as a course director.

Justice Jamadar is deeply involved in judicial education and training nationally, regionally and internationally. In 2004, he completed the Commonwealth Judicial Education Institute's (CJEI) Intensive Study Programme for Judicial Educators and serves as a Fellow and faculty. He also holds a Certificate in Training Judicial Trainers from the University College London Judicial Institute.

As a researcher, he has spearheaded Caribbean-based research in procedural fairness in the courts of Trinidad and Tobago, exploring the wellbeing of Caribbean judicial officers, and mindfulness as an aid to judicial integrity and performance. He is also involved with the United Nations Global Integrity Network and assisted in the development of a global social media protocol for judicial officers. He works with other international organizations such as Global Affairs Canada and UN Women in Caribbean justice sector reform initiatives.
Justice Jamadar has written two books on democratic reform: The Mechanics of Democracy 1989, Inprint Ltd, and Democracy & Constitution Reform in Trinidad and Tobago (with Dr. Kirk Meighoo) 2008, Ian Randle Publishers Ltd. For the Foundation for Human Development, he has written "Glimpses" 2016, and "Insights" 2023, Paria Publishing. He has also written extensive articles and authored various publications relating to law.
"I am humbled and grateful to receive this honour from Victoria University in the University of Toronto. During my time studying at Emmanuel College, my belief in humanity's interconnectedness and desire to impact a better world through conscious reflection, learning, adaptation and change really took shape. My legal work has always been informed by my theological formation, and I am very pleased to be joining another generation of graduates during convocation as they pursue their professional and spiritual journeys," said Justice Jamadar.

About Emmanuel College
Emmanuel College was established in 1928, a few years after the formation of the United Church of Canada in 1925. Its intention was to continue the tradition of theological education established earlier by Canadian Methodists and Presbyterians who founded Victoria University. Rooted in the ecumenical heritage of the United Church of Canada, shaped by its context in Victoria University and in relationship with Christian, Muslim, Buddhist and other religious communities, Emmanuel College equips leaders and scholars for rigorous theological inquiry and for inclusive practices of justice and care, contextual analysis, creative activity and interfaith engagement.

Emmanuel College is the largest theological school associated with the United Church of Canada, one of seven federated theological colleges within the Toronto School of Theology, which is part of the University of Toronto, and a fully accredited member of the Association of Theological Schools.

About Victoria University in The University of Toronto
Victoria University, federated with The University of Toronto, was founded in 1836 and is one of the oldest universities in Canada. As a recognized leader in undergraduate education in the arts and sciences and in graduate education in theology, Victoria University creates an environment where students discover how to match their distinctive talents to some of the world's most pressing issues. It is home to two outstanding colleges. Victoria College—with its small class sizes, its distinctive first-year programs, and its exceptional students—is recognized as one of the most rewarding places in Canada to pursue an undergraduate education. Emmanuel College prepares students from many faiths and backgrounds for leadership roles in religious contexts. The iconic campus is located on the east side of Queen's Park, south of Bloor Street, in Toronto.

-30-
Media Contact:
Sally Szuster, Director, Communications
Victoria University in the University of Toronto
sally.szuster@utoronto.ca
416.262.9308