Grad Spotlight: Matthew Verreault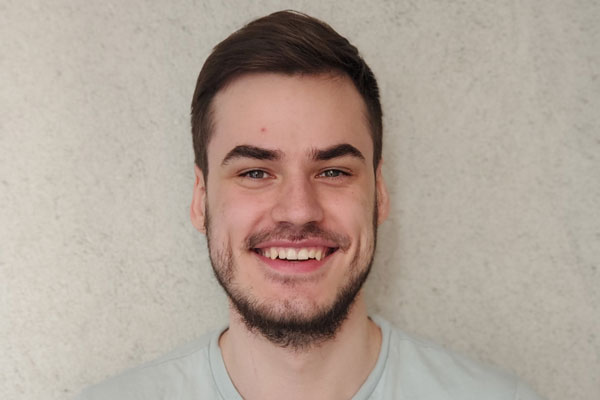 Even though Matthew Verreault always knew he wanted to study computer science or math, his path to graduation had some unexpected twists and surprises, including falling in love with courses that fell outside his degree requirements.
"I knew I wanted to do either computer science or math, but for all the wrong reasons," he laughs. "When I started my degree, I did not fully appreciate what it really entailed. Fortunately, after learning about it from other classmates and professors, I became intrigued with a side of computer science that I did not even know existed when I first applied."
"In completing my degree at Victoria College I had a strong community and a supportive network of cohorts who helped me academically. This group also assisted me in developing strong interpersonal skills and helped me to acquire the soft skills that I needed to be successful and to know how to apply my skills. The College has great advising resources. Staff in the registrar's office helped me decide when I should drop courses and helped me take a semester off for an internship, without disrupting my plans to graduate."
Verreault will graduate from Victoria College in November as a computer science specialist with foci in artificial intelligence and the theory of computation.
For his academic achievements in high school, Verreault received the Clifton Graham Roberts Admission award. In his second year, he received the Professor William Kingston and Dr. John Kingston Scholarship, and for his scholastic achievement and involvement in community service, the Ronald J.C. McQueen Scholarship.
Having received help and support from Victoria College, Verreault has sage advice for anyone considering attending Vic:
"My best memories are of those courses that nobody advised me to take. Small classes were also the most memorable for me. I made so many friends in these classes, and professors had so many interesting stories and conversations that I will never forget."
Verreault's interest in computer science and software development led him to one of his undergrad high points working with a start-up company called Postalgia Inc. "I worked there in my free time during the school year. There, I got the opportunity to obtain hands-on experience with CNC (computer numerical control) machines and software development. I was also mentored in using my technical knowledge to help drive business decisions."
Currently, Verreault is pursuing a career as a full-time software development engineer at Amazon, a job he started in September. "I would like to return to school for postgraduate studies at some point," he says. "I would like the opportunity to pursue either an MBA or a postgraduate degree in computer science, depending on how my goals develop as I obtain more work experience."