Awarding Vic's Outstanding Graduates
By Minh Truong
Over 60 students in Victoria College's Class of 2023 were awarded for their outstanding academic achievement and engagement during this year's emotional June graduation ceremony. Vic has one of the most generous awards, scholarship and bursary programs in Canada thanks to the generosity of donors, most of whom are Vic alumni. This past year alone, close to 40 per cent of Vic students in various stages of their studies received awards.
Here are six of Vic's many remarkable graduates from the Class of 2023 who received awards. No matter their career path, these graduates will make meaningful contributions to the world.
Eli Meadow Ramraj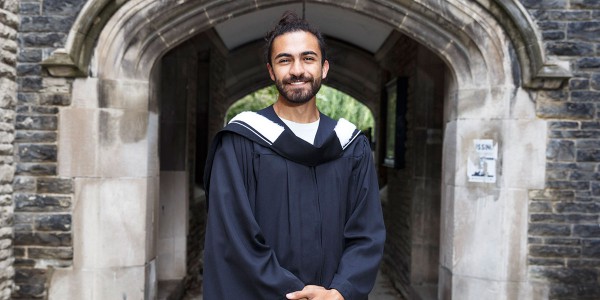 Lights, camera, action! Cinema Studies graduate Eli Meadow Ramraj wants to build a bridge connecting creativity, storytelling and disciplined introspection to the academic world. Ramraj was selected for in a Canon Canada's 12-month creative incubator program as an emerging filmmaker, working with some of Canada's top industry professionals. He is the recipient of the Moriyama Gold Medal, awarded to a Vic graduate with high standing in the arts. He is also the recipient of the 2023 Norman Jewison Fellowship in Film Studies, named after the Vic alumnus for an outstanding graduate in Cinema Studies. His plan is to strike a balance between the arts and academia, moving to Berlin to complete a Masters in Directing and to pursue his academic interest in philosophy of mind. "The recognition and celebration of students' ambition, accomplishments and aspirations by generous alumni donors like Dr. Moriyama is inspiring and encouraging," says Ramraj.
Khulan Enkhbold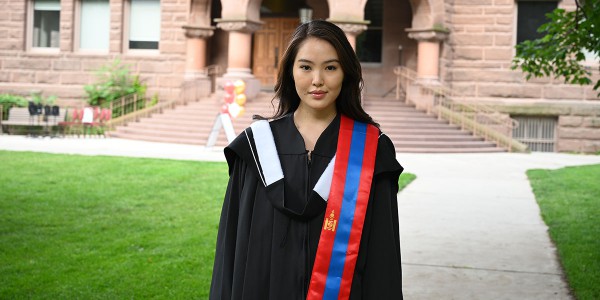 Building more habitable, equitable and accessible urban spaces is what drives Vic graduate Khulan Enkhbold. The human geography and urban studies double major graduate is the recipient of the John E Engeland Scholarship, awarded to the student graduating with the highest overall standing in a social science program. "I am grateful for the immense support and generosity of Mr. Engeland in establishing this award and recognizing my work at Vic," says Enkhbold. She is currently conducting research on the urban landscape of Ulaanbaatar, the capital of her home country, Mongolia. Enkhbold has also been selected as the class president of the Victoria College graduating class of 2023 and will be organizing class reunions and alumni events. Enkhbold will be pursuing her dream career as an urban planner, focusing on affordable housing.
Imani King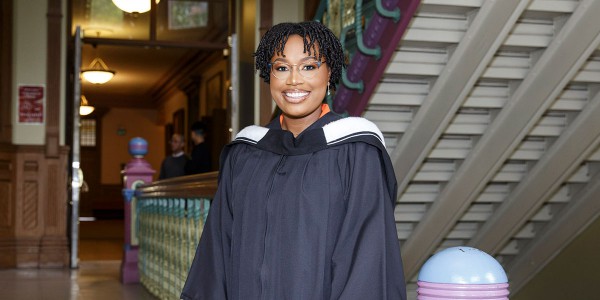 Inspired by Vic One's education stream and her time supporting and mentoring students as a Residence Don, Imani King is pursuing her dream to be an educator. She is the recipient of the Sheila and David Cook Award, given to a student who demonstrates excellent leadership skills in pursuing a teaching career. As one of the two Senior Stick recipients, King had the opportunity to lead the student procession to Convocation Hall on her graduation. "I'm grateful to have been a Vic student and to see how the College has supported the futures of so many generations of amazing students," says King. Her dream is to build a space for students where their development and success are cherished and supported.
Vaneeza Moosa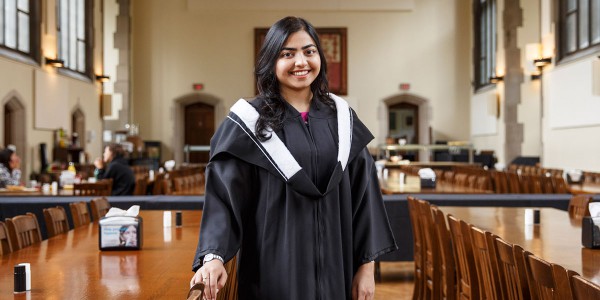 Vaneeza Moosa dreams about growing sustainable communities with accessible education and health care as a physician. Driven to provide compassionate and quality health care to those in need, she completed her Bachelor of Science in neuroscience, with a double minor in biology and physiology. She is this year's recipient of the Helen Muriel and Doris Elizabeth Hubbert Award, recognizing a student pursuing postgraduate studies in the sciences and who demonstrates social responsibility and leadership. "I am empowered by the award to pursue further scientific exploration and betterment of the world," said Moosa. "Thank you to the alumni and donors for their invaluable support and for being the driving force behind every student's success."
Abhay Singh Sachal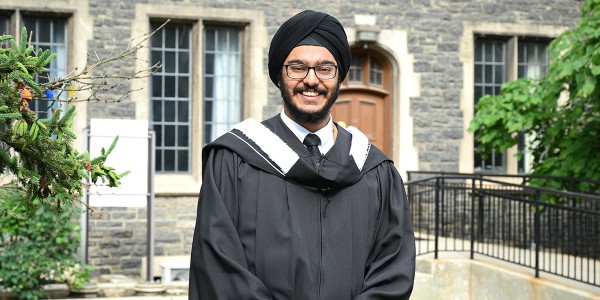 Building a just and sustainable world is Abhay Singh Sachal's dream after graduation having graduated with a double major in Global Health and the Peace, Conflict and Justice Studies program. Sachal received the Fred Reilly Award for his ongoing environmental and humanitarian work. During his time at Vic, he co-founded RealTalk, a student club to foster dialogue around polarizing topics. His high school project, Break The Divide, continued to grow throughout his undergraduate years, becoming an international nonprofit connecting youth worldwide to promote empathy and togetherness. This summer, he plans to build up Break The Divide's environmental and mental health programming with the help of the Fred Reilly Award.
Faith Wershba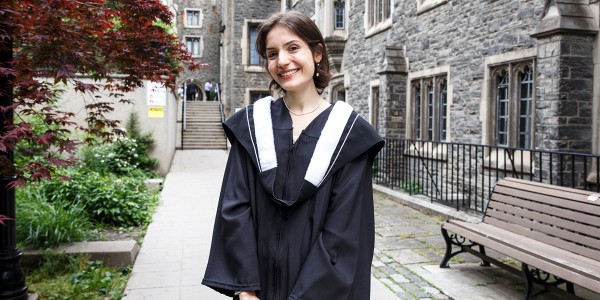 "I am graduating from Victoria College with a very full heart and mind," says Faith Wershba. She was a sustainability co-director at Caffiends café and a section editor at Vic's student newspaper, the Strand; both gave her unforgettable friendships, memories and values that she will carry forward toward her future career. Wershba is this year's recipient of the Margaret Addison Scholarship, awarded to a female graduate pursuing postgraduate studies outside of Canada, and the Women's Centenary Silver Medal, awarded to the female student graduating with the highest overall academic standing. She is "profoundly thankful for the generosity of the donors and educational experiences at Vic." After her double major in Human Biology and Immunology, Wersha will continue her education at Cambridge University for the Master of Philosophy in History and Philosophy of Science and Medicine. She hopes to work in science communication or bioethics to help bridge epistemic and ethical concerns within medical science.
---
Vic's extensive awards programs play a significant role in ensuring student success. By supporting Defy Gravity: The Campaign for Victoria University, you help train the next generation of graduates who will make the world a better place. Learn more about how your gift can make a difference.