Minding Our Minds Conference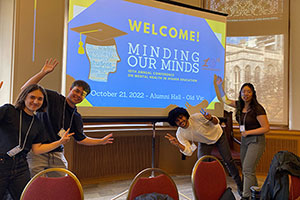 Mental health in university has been a persistent concern for decades. It is only more so in the context of COVID. The tenth annual Minding our Minds conference, hosted by the Office of the Dean of Students at Victoria University on October 21, brought together students, staff, mental health practitioners and faculty to discuss this year's theme, mental health and technology. The topic was timely, given that it was technology that kept us connected during the pandemic, and arguably, made some feel more alienated over the past few years.
The pandemic's impact on mental health has brought into sharp focus the need for stronger mental health education, resources and structural responses, including better navigation and lightening of stressors in universities. "It is often overlooked that university is a distinctly developmental process," said Kelley Castle, dean of students at Victoria University.
"Students arrive here at the beginning of an adult journey with relatively few adult tools. They also face challenges particular to a large urban institution that make the usual hurdles of finding community, navigating resources, and assessing their own personal and academic strengths and gaps all the more difficult. It is our constant and pressing job to be better on these fronts," said Castle.
Increased services to address mental health concerns and programs to support mental wellness have been growing in North American universities for years. "Reassessing how universities themselves have structural and programmatic deficits that exacerbate student struggles must be a real focus now," said Castle.
Innovations to fill the gap in healthcare, such as online resources and apps have had mixed results, while students were often learning remotely and feeling isolated. Now, as students return to in-person learning, there is a period of adjustment and reflection about how technology impacted mental well-being.
Victoria University President Rhonda McEwen was one of two keynote speakers at the conference, sharing her expertise about how technology impacts human behaviour. Her talk on "Contemporary Research on Technology and Mental Health" focused on her research and exploration into technologies as a resource in supporting learning, mental health and wellness. Her research also investigates the implications of smartphone use for peer bonding and the development of social capital during adolescence.
David Gratzer, a psychiatrist at The Centre for Addiction and Mental Health and speaker at the conference, reflected on how the delivery of mental health care has shifted radically due to the pandemic. In 2014 only 0.15 per cent of health- care services were delivered virtually. By March 2020, the shift to virtual care had shot up to 90 per cent. Patients, who used to have a 30 to 40 per cent no-show rate for in-person visits, were not missing a single visit. Throughout the pandemic, the demand for psychiatric care soared and there was also a huge uptick in the use of mental health apps. Gratzer cautioned that the quality of apps is uneven but that increased interest in mental health is a good thing overall.
Conference attendees were drawn to the event for different personal reasons. One student who has struggled with mental health since high school said, "This is a difficult topic to discuss, and although this is a very personal issue, Vic is so friendly that I felt safe enough to come to the conference. I'm at a place where sharing my story gives me comfort."
Another student, who is a residence don at Vic, said, "It is important to keep this conversation going. Mental health should be a priority for everyone, not just for staff who work on the frontline with students. This conference particularly interests me as there is an excellent discussion on the pros and cons of technology's role during the pandemic."
Conference attendees also heard from a student panel. The panel engaged in a lively discussion on technology and the use of social media throughout the pandemic, and offered personal experiences of how they managed their personal health while balancing academic and social pressures. Many of the students agreed that using social media could offer a short-term fix for feelings of loneliness during pandemic isolation, but that bonds created online are weaker than relationships established through in-person interaction.
Beyond the technology question, there was a consistent concern that students often"felt like a number".
"U of T is so big, and classes are so huge that we really need help navigating all of that and finding community," said one student. "That's why doing things like this conference, orientation, Vic Ready and basically having a community in the College is so important."
Dean Castle agrees. "Throughout University, and especially during times of transition, when you arrive and when you near graduation, the University can support students with transition programs, career development and co-curricular academic experiences that are responsive to students' concerns around mental health," she said.
According to one staff member who has attended this conference every year, "This conference is a great way to normalize mental health as a subject. Vic prides itself on being a welcoming, inclusive community and this conference is just one of the tools at our disposal."