New Principal of Emmanuel College Announced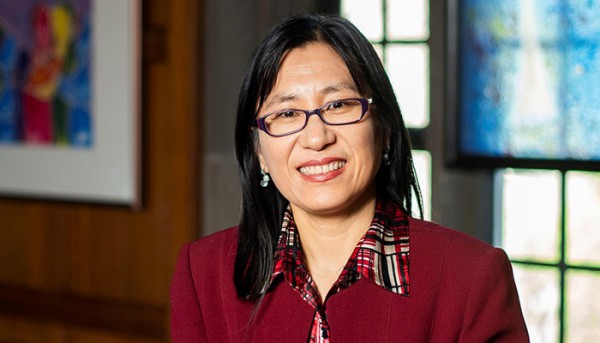 The Board of Regents of Victoria University in the University of Toronto is pleased to announce that The Rev. Dr. HyeRan Kim-Cragg has been appointed Principal of Emmanuel College beginning on July 1, 2022. The appointment was made following the unanimous recommendation of the Search Advisory Committee.

Dr. Kim-Cragg has been a valued member of the faculty of Emmanuel College since 2019. She graduated from Emmanuel College in 2006 with a Doctor of Theology and was recognized with the Distinguished Alumni Award in 2021. Dr. Kim-Cragg has had an academic career characterized by intensive research and publishing with a focus on integrating Christian practices with postcolonial, feminist and anti-racist approaches. This is well aligned with Emmanuel's interreligious pedagogical approach and commitment to addressing inequities. Dr. Kim-Cragg will be the first racialized person appointed as Principal in Emmanuel College's history.
As Graduate Degree Director of Emmanuel College and Timothy Eaton Memorial Church Professor of Preaching, Dr. Kim-Cragg has played a pivotal role in evolving the College's pedagogical direction. Previous to her roles at Emmanuel College, Dr. Kim-Cragg was the Lydia Gruchy Chair and Professor of Pastoral Studies at St. Andrew's College in Saskatoon for 10 years. She has influenced many graduates who are actively involved in ministry across the country.
"Dr. Kim-Cragg is a talented academic, driven to reflect social justice in theological education and service. She is recognized for her ability to listen deeply to diverse perspectives and has earned the respect of faith colleagues from across the country. I know that her leadership will continue to shape and strengthen one of the most respected theological colleges in North America," William Robins, President and Vice-Chancellor, Victoria University in the University of Toronto.
Hailing from the Presbyterian Church in the Republic of Korea (PROK), a denomination with a long-standing relationship with the United Church, Dr. Kim-Cragg is a highly respected scholar, leader and mentor within The United Church of Canada. Dr. Kim-Cragg has also served various ecumenical and theological communities in many capacities including on the Advisory Board of the Women in Leadership (WIL) committee of the Association of Theological Schools (ATS) in U.S.A and Canada and as Dean of the Global Institute of Theology of the World Communion of Reformed Churches (WCRC).
"Dr. Kim-Cragg is committed to continue to strengthen the relationship between the College and the church. She has intentionally contributed to the church's journey of becoming intercultural, through her scholarship, teaching, congregational ministry and mentorship. She brings an extensive ecumenical and global orientation to the role, which will be a particular gift to both College and church," Rev. Michael Blair, General Secretary of The United Church of Canada.
"Dr. Kim-Cragg has a vision for theological education that is consistent with the United Church's mission and history—born of the ecumenical movement and engaged for decades in interfaith, interreligious conversation. She is well prepared to articulate Emmanuel College's role in a pluralistic Canadian society. She will provide significant leadership interpreting this vision and mission within Victoria University, the Toronto School of Theology, The United Church of Canada, and the wider society," Dr. Pamela Couture, Director, Toronto School of Theology. Emmanuel College is a member of the Toronto School of Theology, an ecumenical consortium affiliated with the University of Toronto.
"As Emmanuel College nears its centennial, I am tremendously honoured to lead this outstanding College which has had such an important impact on my life, as an academic and faith leader. I look forward to cultivating relationships with local and global faith communities and theological schools, and most of all providing an outstanding education experience for our students," Dr. HyeRan Kim-Cragg, Incoming Principal, Emmanuel College.

About Emmanuel College
Emmanuel College was established in 1928 to continue the tradition of theological education valued by Presbyterian, Methodist, and Congregational denominations who formed The United Church of Canada in 1925. They established the College at Victoria University which was founded by Canadian Methodists. Rooted in the ecumenical heritage of The United Church of Canada, shaped by its context in Victoria University and in relationship with Christian, Muslim, Buddhist and other religious communities, Emmanuel College equips leaders and scholars for rigorous theological inquiry and for inclusive practices of justice and care, contextual analysis, creative activity, and interfaith engagement.

Emmanuel College is the largest theological college associated with The United Church of Canada, one of seven federated theological colleges within the Toronto School of Theology, which is part of the University of Toronto, and a fully accredited member of the Association of Theological Schools.

About Victoria University in The University of Toronto
Victoria University, federated with The University of Toronto, was founded in 1836 and is one of the oldest universities in Canada. As a recognized leader in undergraduate education in the arts and sciences and in graduate education in theology, Victoria University creates an environment where students discover how to match their distinctive talents to some of the world's most pressing issues. It is home to two outstanding colleges. Victoria College—with its small class sizes, its distinctive first-year programs, and its exceptional students—is recognized as one of the most rewarding places in Canada to pursue an undergraduate education. Emmanuel College prepares students from many faiths and backgrounds for leadership roles in religious contexts. The iconic campus is located on the east side of Queen's Park, south of Bloor Street, in Toronto.