Preparing Students to Meet the World Through Vic Ready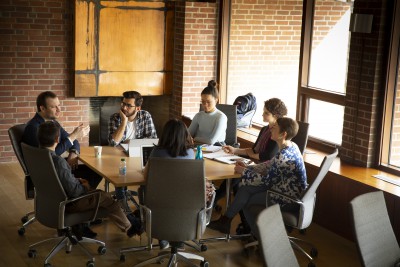 The data are in and we have work to do. Vic students have the best of both worlds; they are part of a top global postsecondary institution and part of a vibrant, close-knit College community. However, the National Survey of Student Engagement (NSSE) and the Multi-Institutional Study of Leadership (MISL) indicate that graduating students across North America are experiencing increased anxiety and feel unprepared for what will come "once they hit the real world." Vic has conducted many reviews of student services, conducted focus groups, and heard directly from students that what they need is "readiness." Although students have access to coaching sessions, alumni support, career counselling and so much more, they leave University unsure how to pull these offerings together. Enter Vic Ready.
Launched in September 2019—an initiative by the Office of the Dean of Students, the Office of the Registrar, and Alumni Affairs & Advancement—this one-of-a-kind co-curricular program prepares students for a purposeful exit from undergraduate studies. What makes this multi-year curriculum different from traditional programs is its approach to post-graduate preparedness. "There is an abundance of excellent resources out there," says Kelley Castle, dean of students. "What makes Vic Ready unique is the holistic approach to the next steps of a student's journey. If students are learning to sail their own ship, they're not taught how to evaluate if they have all the required parts to build it, nor are they trained how to assemble it."
Students engage in an honest self-examination and survey of their skills. After identifying gaps in their experience, students have the opportunity, through Vic Ready modules and coaching, to address these gaps prior to graduation, develop soft skills and integrate these skills with their academic experience. Students learn how to build a cohesive narrative and package addressing the needs of future employers and graduate schools.
Focusing on each student's goals, Vic staff, peer-to-peer relationships and alumni mentors help facilitate opportunities and make connections across their unique curricular and co-curricular journeys. "Creating a supportive community to explore options, build skills, and complementing that with one-on-one appointments was an amazing way to increase students' confidence and map out concrete next steps that were truly personalized," says Yvette Ali, Victoria College registrar. "Vic Ready focuses on students' individualized goals and provides support to help them thrive."
The Vic team is seeing signs of success. Students speak enthusiastically about the program's offerings and how it helped demystify their career and life planning. "What was great about Vic Ready was creating a network of students similar to me and facilitating an open-minded, non-intimidating environment for learning and development," says Ann Marie Elpa, a third-year student in English and book and media studies.
However, one year in the program does not make students "Vic Ready." The program continues to evolve, as Heidi Pepper Coles, associate dean of student success, explains. She is leading the next phase of the program. "We've completed the exposure phase of the program's development. Last year we offered a program with a menu-like feel and students were invited to attend workshops and modules that met their most pressing needs. The next phase will expand the program, continue to build its unique offerings, and see specific pathways for students depending on their goals after graduation."
Job searching in a world that is grappling with COVID-19 will only increase the need for Vic Ready. Now, more than ever, is the time for Victoria University to invite students to lean into their community and gain practical resources and advice on ways to navigate life in this new age of uncertainty. Through Vic Ready, staff and alumni alike will help students successfully pivot from their undergraduate careers to whatever path they choose.
The impact of Vic Ready doesn't end with an individual's success. "It is our hope that, in keeping with Vic's ethos of giving back, students participating in the program will, as young alumni, cycle back into the program to share their experiences and perspectives with a new crop of students," says Louise Yearwood, executive director of Alumni Affairs & Advancement. "This participation will be a measure of future success as students will gain valuable life skills, work competencies and unique insights from alumni who participated in the Vic Ready program."
Vic alumni who would like to support the program with their time or resources should contact Alumni Affairs & Advancement at vic.alumni@utoronto.ca.