Scholars in Residence: A Multi-sensory Approach to Taste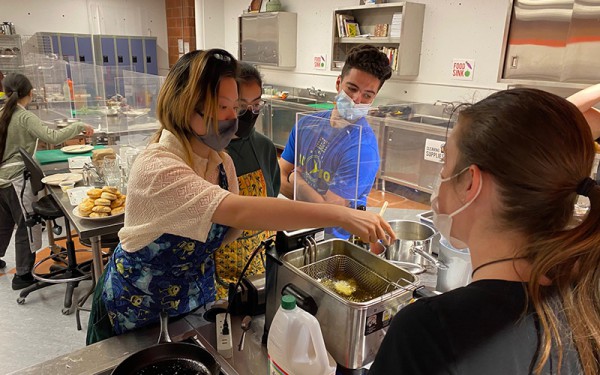 Food has brought people together for millennia. Is there more to food, though, than its taste and appearance? Yes, according to the research of this year's undergraduate research team who explored a multi-sensory approach to taste as part of the Jackman Scholars-in-Residence program housed at Victoria College since 2016. The team was led by Bob Davidson, director of Vic's Northrop Frye Centre and affiliate faculty of the University of Toronto Scarborough's Culinaria Research Centre, and Daniel Bender, associate fellow of Victoria College, Canada Research Chair in Cultural History and Analysis and director of Culinaria at UTSC.
"Dan's research and my own on taste coincide. We came together to conceive a research project that would not have a typical top-down, rigid, academic approach. We created a very open and fluid project for students so that they could generate their own, original knowledge. The appeal to exploring taste from a multi-sensory approach proved so popular that over 100 students applied to the five research positions," notes Davidson.
Through various explorations of food and drink, including cooking bison three ways, a formal wine tasting as well as foraging for plants in UTSC's valley and ultimately cooking them in the Culinaria kitchen, students created a concept map to identify multi-sensory taste in different areas such as academic research, actual experience, and how taste is communicated through describing its sound, visual and/or olfactory distinctiveness. According to student Thomas Psarianos, "We really learned to incorporate multi-sensory tasting into our epistemological system and our ways of knowledge acquisition. Multi-sensory taste prevails as an extremely powerful tool that can both inform our knowledge of food itself and reveal its importance for wider cultural implications. Multi-sensory taste proves to be a comprehensive method of knowledge acquisition that gives a higher degree of comprehension than relying on individual senses."
As student Emma Wan explains, "We are asking questions such as what can we learn from food, other than taste? Food is a pedagogical tool. The kitchen creates an ideal framework for multi-sensory learning. The kitchen is a classroom in action. Students must employ knowledge from a wide range of disciplines including anthropology, nutrition, history and in our case, botany, thanks to our foraging."
Student Daniela Mallarino Jaramillo also enjoyed the untraditional academic experience of sourcing food from the ravines of UTSC. Faculty and students sourced garlic mustard, dandelions, flowers, linden leaves, cattails, and spruce tips. A collaborator brought a nettle cake that she had made and decorated it with fresh lilac petals. "For the first couple of days, we tried to describe specific taste moments. We were trying to find out ways to discover and explore, but at the same time think of how to explain something so subjective," she says. Students were quick to realize that despite academic training and expertise, taste is much more complicated than it would first appear.
"Clearly this topic has very broad appeal. Our ultimate goal is to present a conference and create a publication out of this wonderfully fulfilling research," says Davidson. "I commend our five researchers, Daniela Mallarino Jaramillo, Thomas Psarianos, Hannah Rajput, Ishika Rishi and Emma Wan, for making such successful research headway. This is definitely an expanding area of interest."