Scholars-in-Residence: The Resurfacing of Frozen Mammoths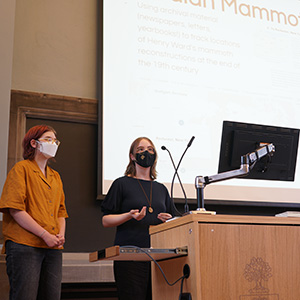 How can the discoveries of frozen mammoths help researchers further understand global warming? Throughout the month of May, five undergraduate students joined the Jackman Scholars-in-Residence 2022 program located at Victoria College to answer that question, led by Professor Rebecca Woods. The students who worked on campus, and stayed in residences, were divided into three teams and explored specific themes from the mammoth findings.
Consisting of research assistants and undergraduate students, the Mammoth History Lab collects, translates and analyzes data on the emerging pattern of frozen mammoth remains throughout history.
Once a rare occurrence, the finding of frozen mammoth bodies has grown more frequent in the last few years due the rapid rate of Artic ice melting, which can be an important indication of global warming. The findings can provide scientific breakthroughs about the Ice Age, which is a potential for answering questions about the history of climate change.
"I've found patterns as each of these full fleshed mammoths have emerged into the present," said Woods. "It becomes a lightning rod for cultural ideas about the environment and the planet and the changes that evolved through time."
Third-year student Maher Qureshi enjoys the freedom Woods gives in choosing her research topic. "It was kind of difficult initially to get out of the bubble of a structured academic mindset and be able to explore your own interests," said Qureshi.
Third-year student Mies Kerr also found the freedom helps with the conducting research process. "I know more focused terms and how to navigate databases a lot better," said Kerr. "You really have to be precise on what you're looking for."
For Woods, the program has worked nicely with the ongoing research. "Having five really smart undergraduates working at my side has allowed me to collect a huge amount of digitized archival materials," she says
Qureshi, with third-year student Arshia Negi, researched mammoths' revival and de-extinction in the last 40 years. Kerr, along with Izzy Friesen and research assistant Chloe Chaitov created a chronological story map on the restoration of mammoth models by Henry Ward. The third team, including research assistant Marcus Forbes-Green and third-year student Tanisha Agarwal, created a timeline of theories on mammoth extinction.
This marked the 7th year of the Scholars-in-Residence program, founded by Victoria College and the Jackman Humanities Institute in 2016. Since its inception, the program has rapidly expanded from a 20-student pilot at UTSG to over 130 students across all U of T campuses.
For Woods, the scope of the project has grown further thanks to the student participation. "Seeing what they're excited about helps me understand what might draw an audience to the project more broadly"
"It was a lot of tacit knowledge in what we do that requires practice," said Woods. "Which is why the [Scholars-in-Residence program] is so great because it ends up being a really good incubator for both students and faculty."
Visit the Mammoth History Lab website.