Bob Rae to Receive Honorary Doctorate from Victoria University
PRESS RELEASE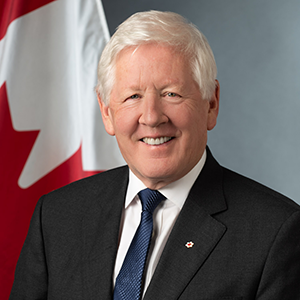 The Honourable Bob Rae, P.C., C.C., O.Ont., Q.C., will receive an Honorary Doctorate from Victoria University in the University of Toronto, where he served as the David and Ann Wilson Distinguished Professor of Public Policy and taught a seminar every year on "Corporate Citizenship, Sustainability and Ethics" in the highly respected Vic One program.
Mr. Rae will be recognized for his distinguished record of national and international public service. Chancellor Nick Saul, renowned food and social justice activist, will confer the degree on Sept. 6 at 4 p.m. at the Isabel Bader Theatre on Victoria University's campus, as part of the traditional student orientation ceremony.
Mr. Rae currently serves as Ambassador and Permanent Representative of Canada to the United Nations in New York. Prior to this appointment, he served as Canada's special envoy on humanitarian and refugee issues, continuing the important work that he began in 2017 as Canada's special envoy to Myanmar while also addressing other pressing humanitarian and refugee issues around the world.
"Bob Rae exemplifies the intellectual rigour and passion for shaping our world that we strive for at Victoria University in the University of Toronto. He has spent his entire career as a catalyst for change and a champion of human rights here at home and globally. We are immensely grateful for the way that he inspired students to consider what they can do to make the world a better place," said Dr. Rhonda McEwen, president and vice-chancellor, Victoria University in the University of Toronto. "In conferring an Honorary Doctor of Humane Letters, honoris causa, we recognize Mr. Rae's exemplary service to community and extraordinary commitment to social justice and education."
The former premier of Ontario and former interim leader of the Liberal Party of Canada, Mr. Rae was elected 11 times to federal and provincial parliaments. He stepped down as a member of Parliament in 2013 to return to legal practice and, in particular, to work with Indigenous communities and continue his work in education, governance and human rights.
Mr. Rae taught law and public policy at the University of Toronto and in the Vic One program at Victoria College, and was a partner and senior counsel to the law firm OKT LLP from 2014 to 2020, specializing in Indigenous law and constitutional issues. He is a Privy Councillor, a Companion of the Order of Canada, and a member of the Order of Ontario. He received his Honours Bachelor of Arts degree in Modern History from the University of Toronto in 1969, a Master of Philosophy degree as a Rhodes Scholar at Oxford University in 1971 and graduated from the University of Toronto Faculty of Law in 1977.
About Victoria University in The University of Toronto
Victoria University, federated with The University of Toronto, was founded in 1836 and is one of the oldest universities in Canada. As a recognized leader in undergraduate education in the arts and sciences and in graduate education in theology, Victoria University creates an environment where students discover how to match their distinctive talents to some of the world's most pressing issues. It is home to two outstanding colleges. Victoria College—with its small class sizes, its distinctive first-year programs, and its exceptional students—is recognized as one of the most rewarding places in Canada to pursue an undergraduate education. Emmanuel College prepares students from many faiths and backgrounds for leadership roles in religious contexts. The campus is located on the east side of Queen's Park, south of Bloor Street, in Toronto.
-30-
Media Contact:
Sally Szuster, Director, Communications
Victoria University, in the University of Toronto
sally.szuster@utoronto.ca
647-299-6142