Vic Student Receives Rhodes Scholarship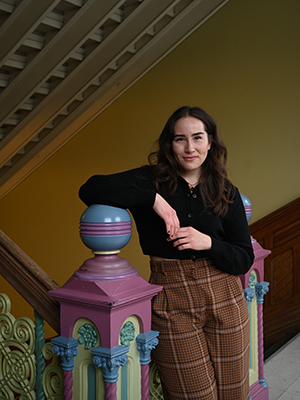 Once again, a Victoria College student has been named a Rhodes Scholar, one of the most distinguished scholarships in the world. Iakoiehwahtha (Iako) Patton is the fifth Victoria College student in 13 years to be selected as one of only two scholars in Ontario and 11 across all of Canada annually.
As a member of the Kanien'kehá:ka First Nations community in Quebec, Patton's identity as an Indigenous woman has shaped the perspective from which she studies. With a love for Netherlandish art, Patton approaches her scholarship on the Northern Renaissance at the intersection of gender, colonialism and its artistic representations. Patton plans to continue her studies in art history at Oxford, focusing on the imaging of North American Indigenous peoples in the Netherlandish art canon. In essence, she regards her art historical work as her duty to unveil the deep inequalities of colonial and gender relations embedded within art.
"I didn't have Indigenous academic role models so I really had to pave my own path. If I can help to create structures and pathways for other Indigenous women in academia, that would make me feel very happy," she explained.
Patton, who is in her final year studying art history, anthropology, and Renaissance studies at U of T, has been deeply involved in the Victoria University community, earning the respect of students, faculty and staff for her leadership on campus. In addition to supporting other students as a volunteer mentor, she served as the student lead on Victoria University's Campus (Re)conciliations conference for three years and is part of Victoria University's Indigenous Advisory Circle. She is the president of the History of Art Students' Association, a member of multiple Indigenous advisory committees at U of T and has written extensively on land, indigeneity, and Christianity.
"I was so surprised to just get an interview...I never expected to be selected," says Patton with an emotional smile. "I had this image that Rhodes Scholars are mostly political science or legal focused academics, and my focus is humanities. They told me that I'd be notified on Saturday night between 6-8 p.m. and every notification on my phone during that time made me jump! When the call came, they said I was on speaker-phone, and my heart stopped. The first thing I said was 'oh my God!' and then I cried."
The first call she made after she got the news was to her mother, who was in the Kanien'kehá:ka longhouse at a ceremony. "I've never heard my mother cry like that," says Patton. "My parents didn't have a post-secondary education and growing up, they wanted me to have every opportunity that they didn't have. They have been so supportive of me pursuing my academic passions. I've always put everything I've had into the things that I love, and I truly love art history."
"This achievement would be extraordinary for any student, but I think that it's even more inspiring since Patton began her academic journey at Vic just before the pandemic started. Within a few short months, she had to return to her community and learn remotely like so many other students. Patton overcame every obstacle and never missed the opportunity to contribute to the community at Vic and U of T," says Dr. Rhonda McEwen, president and vice-chancellor, Victoria University in the University of Toronto.
"The Vic community has been this incredibly supportive and welcoming place for me to thrive," says Patton. "The first person I met on campus was Professor Jonathan Hamilton-Diabo who also grew up in Kanien'kehá:ka First Nations. He got me involved on campus and I had the opportunity to build relationships with other faculty and staff that have meant so much to me. The first person I contacted at Vic to share the news about the Rhodes Scholarship was Dean Kelley Castle, who has been such a wonderful champion for me with other faculty and staff like Registrar Yvette Ali and Principal Angela Esterhammer. Coming from a small community of only 8000, Vic's tight community really made me feel like I had a home."
According to Richard Pan, the Canadian Secretary of the Rhodes Trust and the chair for the Rhodes Scholarships in Canada (RSC), "The Scholarships call for and recognize a set of timeless virtues—intellectual excellence, strength of character, energy to strive, commitment to serve and instinct to lead."
"On behalf of the entire Vic community, I offer Iako heartfelt congratulations. She continues to exemplify outstanding leadership and passion for making the world a better place, an important shared value at Vic. Our students are incredible people! We all join in a sense of pride when our students achieve their goals and pursue their dreams, and I know that Iako will continue to achieve her big ambitions," says McEwen.