Location: Old Vic Building, Alumni Hall VC112
In addition to being teachers and scholars, many of Victoria College's faculty are creative writers in their own right. Join us for this event where our distinguished professors will be sharing their recent publications with the community.
If you are unable to attend in person, you may attend virtually here.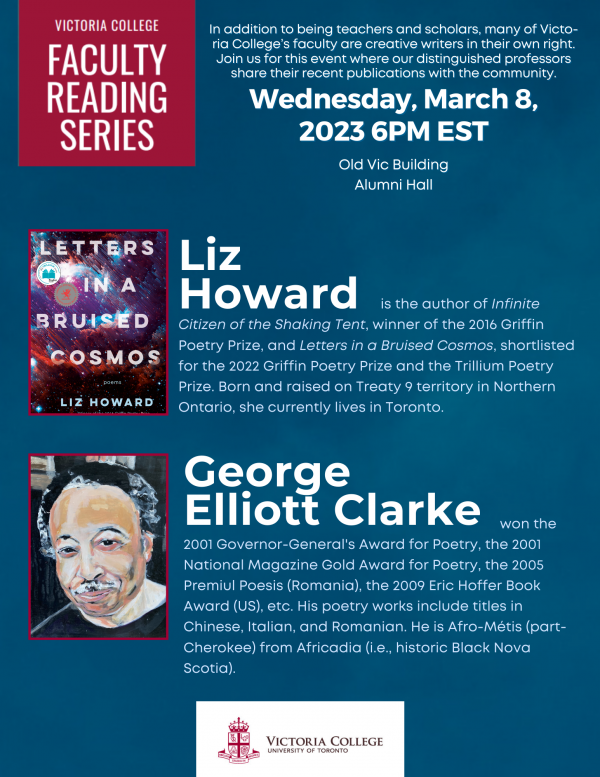 Liz Howard is the author of Infinite Citizen of the Shaking Tent, winner of the 2016 Griffin Poetry Prize, and Letters in a Bruised Cosmos, shortlisted for the 2022 Griffin Poetry Prize and the Trillium Poetry Prize. She is the 2022-23 Shaftesbury Creative Writer-in-Residence. Born and raised on Treaty 9 territory in Northern Ontario, she currently lives in Toronto.
George Elliott Clarke won the 2001 Governor-General's Award for Poetry, the 2001 National Magazine Gold Award for Poetry, the 2005 Premiul Poesis (Romania), the 2009 Eric Hoffer Book Award (US), etc. He is the E.J. Pratt Professor of Canadian Literature at the University of Toronto. His poetry works include titles in Chinese, Italian, and Romanian. He is Afro-Métis (part-Cherokee) from Africadia (i.e., historic Black Nova Scotia).
For more information, please email: aimili.fu@utoronto.ca