Kate J. Russell | Family Values: John Waters' Concept of Cult
UPDATED DATE: January 25, 2024
We are pleased to invite you to a talk from
NFC Doctoral Fellow Kate J. Russell
entitled 'Family Values: John Waters' Concept of Cult',
on Thur
sday, January 25th at 1:00pm
in VC102 (the Northrop Frye Centre).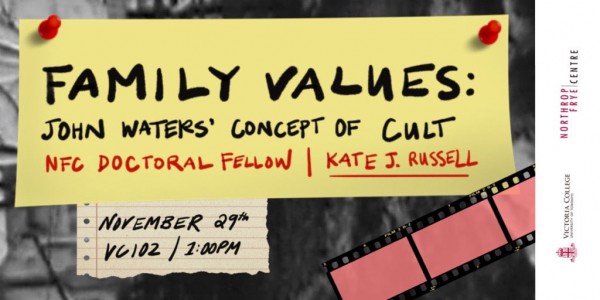 REGISTER HERE

This is a hybrid event; a Zoom link will be sent out to those who register for a virtual attendance ticket.
About the talk...
An image of Mary and Joseph holding their newborn son is glued onto a page of John Waters' scrapbook from 1970, a startling inclusion by one of American cinema's foremost provocateurs until one notices that pasted over the infant Jesus is Charles Manson's face. This manipulated image, I argue, encapsulates how Waters approaches the concept of cult. Waters' early feature films (1969-1977) are often cited as canonical cult texts due to their stylistic excesses, technical ineptitude, and transgressive subject matter that lend themselves to subcultural appeal. While cult film scholarship has focussed on reception contexts that valorize stylistic and thematic transgression, this talk will instead turn to rethinking what "cult" means as a concept, examining Waters's provocations of blaspheming Catholic imagery and the influence of the Manson Family as strands of cult that intertwine in his transgressive comedy. It will read the formal composition of the scrapbooks and film texts through theories of comedy to examine how Waters's humour works between a ridiculing of organized religion and murderous cult activity.
About the speaker...
Kate J. Russell is a PhD candidate in Cinema Studies at the University of Toronto where she is writing her dissertation on John Waters and humour in cult cinema. Her writing appears in Velvet Light Trap, Discourse: Journal for Theoretical Studies in Media and Culture, Monstrum, and ReFocus: The Films of William Castle.