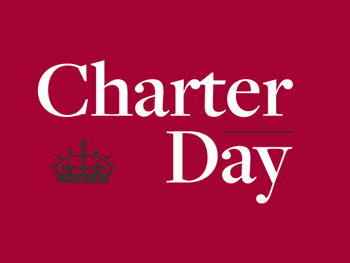 The year 2020 has brought change to all of our traditions. The celebration of this year's Charter Day is no exception. The day commemorates the granting of Victoria's Royal Charter by King William IV on October 12, 1836. And every year, since then, we have marked Victoria's founding as a leader in liberal arts and theological post-secondary education with an on-campus celebration. Normally we would host an in-person lunch for members of our Chancellor's Council, followed by a convocation, and then a reception for student-award recipients and their donors.
This year, of course, events have had to move online including our Chancellor's Council luncheon which normally hosts a lively conversation between our chancellor and their guest. This year Chancellor Nick Saul, O.C., Vic 9T0 will be greeting the community via video on October 7. The spirit of our donor-student reception will be highlighted through donor stories and student stories on these pages. Charter Day Convocation has been the annual occasion for the presentation of scholarships and other academic awards to students of Victoria College since 1895. We hope that this in-person tradition will resume for 2021.
Victoria University was formed in 1884 with the merger of Victoria College and Albert College. In 1890 Victoria University federated with the University of Toronto. In 1892 Victoria University moved from Cobourg to its current campus on Queen's Park Crescent. It comprises Victoria College, an arts and science college of U of T, and Emmanuel College, a theological college associated with the United Church of Canada.
Be sure to follow along on Facebook, Instagram and Twitter as we highlight this year's award recipients and donors.