Storied Blake Printed Plates Acquired by Library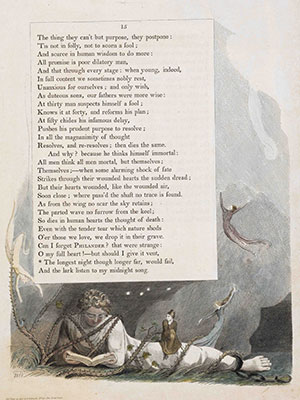 When a library makes a new acquisition for its special collections, the first thought is that it must be a rare book or manuscript, right? But it might also be pages of books or engraved and painted plates with roots in the decorative arts, from an unpublished book project. In addition to housing significant collections related to Canadiana and Victoriana just to name a few, Vic Library also houses collections linking books with the print arts. Such is the tie between the Library's collection of the manuscripts, notebooks and annotations of Northrop Frye with the commercial engravings of William Blake.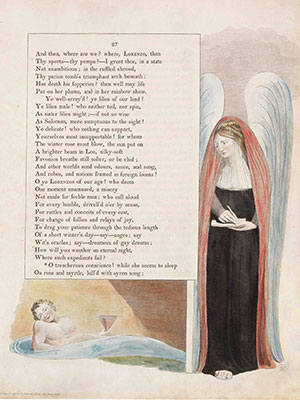 William Blake (1757–1827) was a key figure in the poetry and visual arts scene of the Romantic Age in Great Britain. However, Blake's poetry and illuminated work, for which he is now best known, did not generate enough income to pay his bills: he needed to take on commercial work to sustain him and his wife Catherine.
To enrich the existing collection donated by 2005 by Gerald E. Bentley Jr., Blake scholar and a former U of T English professor, the Library recently purchased two plates printed by Blake as commissioned by Richard Edward's for an edition of Edward Young's contemplative long poem Night Thoughts (1797). It is believed that both William Blake and his wife Catherine painted the plates in watercolours, with Catherine painting the broad strokes and William doing the detailed painting. Night Thoughts was Blake's largest commercial project for which he produced 537 water colours to accompany the poem's nine sections. However, the edition commissioned by Edward's was never published and Blake abandoned his work when he learned he would not be paid what he expected.
"Scholars and students of the Romantic period are increasingly focusing on the history of books and media, and on material culture, so Blake's engraving work is getting more attention than ever," says Angela Esterhammer Vic 8T3, principal of Victoria College and specialist of Romanticism. "His engraved plates are not only things of beauty in themselves, but they also help us understand how people experienced literature and art during his time. This recent acquisition makes the Pratt Library's important Blake collection even more special."
According to Blake collector, Robert Essick: "After studying a good many copies of the hand-coloured Night Thoughts engravings by Blake, I'm convinced that the colouring was not by journeyman colourists of the type hired by booksellers during the period. The colouring is far superior—among the finest Type 1 (i.e., very pale) colouring I've ever seen."
"Blake died in utter poverty," Lisa Sherlock, chief librarian, observes, "for the Illuminated work which he loved to produce did not pay, although it is those works for which he is now best known. Blake was not highly regarded by his contemporaries save for his valued patrons who purchased pieces of his work to keep him afloat. Many of his commercial commissions were not well paid and he was often unpaid as with the unpublished Night Thoughts plates," says Sherlock. Northrop Frye's Vic 3T3, Emm 3T6 earliest book, Fearful Symmetry (1947) largely brought the work of Blake out of obscurity. Frye subsequently unfolded his understanding of Blake's work into his own reading of other genres; building upon Blake's ideas to complement and expand upon his own in Anatomy of Criticism (1957) and later publications. "It's wonderful that our Frye and Blake collections can converse in this way," Sherlock says. "It provides a better understanding of both historical figures. That is the essence of special collections at the Victoria University Library. It would enhance our understanding of Blake's work and Frye's on Blake if we could purchase more of these remarkably beautiful plates in future. We look forward to the generous support of our Friends of the Library whose annual book sale's proceeds will give us the opportunity to purchase more plates going forward."