NFC Doctoral Fellow Lecture | Marina Dumont-Gauthier
Transatlantic Exposures: German Photographers in Buenos Aires and the Female Lens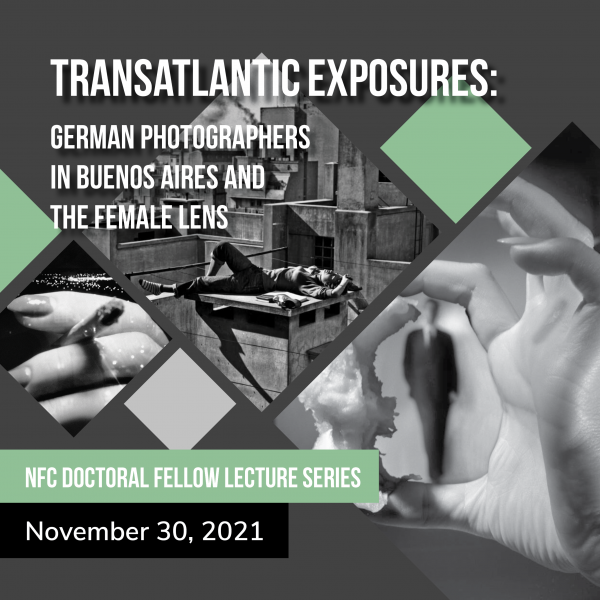 To watch the livestream on Youtube, click here.
About the talk

Focusing on the role played by female photographers in the wake of Buenos Aires' photographic avant-garde, my research investigates the works of German-born photographers Annemarie Heinrich, Grete Stern, and Gisèle Freund, who all emigrated to Argentina between the mid-1920s and early 1940s.
My protagonists, all being female Jewish German photographers from a similar age group, and all living in Buenos Aires during the 1940s, would have been aware of each other's works. And yet, despite their impact on the photographic history of Argentina, there has yet to be a comprehensive account of how their works collectively influenced the development of photography in the country.
The compelling trajectory of these women is made even more notable considering the enduring uneasiness to approach "non-Western art" on the same plane as "Western art." Where do we place these women? Are they German or Argentine? Do they belong to what has been labelled as the "centre" or to the "peripheries"? How does that impact the ways in which their works is read and evaluated? In an effort to answer these questions my dissertation also explores the role played by Buenos Aires. Dubbed, "the Paris of the South" around the end of the nineteenth century, it resisted exoticizing stereotypes associated with Latin America perhaps more than any other of its cities. As such, Buenos Aires, and the presence of these women in it, allow for a critical reassessment of how we have come to understand cross-cultural encounters, gender dynamics, non-Western spaces, and the modern art canon.
About the speaker
Marina Dumont-Gauthier
is a PhD candidate in the Graduate Department of Art History at the University of Toronto. Her current research explores the role played by female photographers in the wake of Argentina's photographic avant-garde and its subsequent development in the country, focusing on the works of German-born photographers Gisèle Freund, Annemarie Heinrich, and Grete Stern, between the mid-1930s and the early 1950s.
Since starting her PhD, Marina was a Graduate Intern in the Department of Photographs at the J. Paul Getty Museum (2019–20). She also completed a research internship in the Department of Photography at the Museum of Modern Art in New York (2017). Her doctoral research is funded by the Ontario Graduate Scholarship (2016–2017, 2020–2021) and the Joseph-Armand Bombardier Doctoral Award (2017–20).
For more information and to register for this event, please email: nfc@utoronto.ca